Posted on October 12th, 2018 in Destiny 2, PixelPub Community, PixelPub News, Wrath Incarnate by Bloodrave120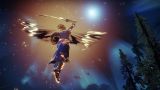 "We took back our light, now we want everything else.."
Destiny is best played with friendly, respectful gamers teaming up to achieve a goal. Whether that be to complete the latest raid, discovering secrets, or dominating in pvp. We are looking for guardians willing to work together, respect one another and have fun.